Serbian Foreign Minister Nikola Selakovic spoke by phone with state adviser and Chinese Foreign Minister Wang Yi. @ 12 April 2022 05:42 AM
---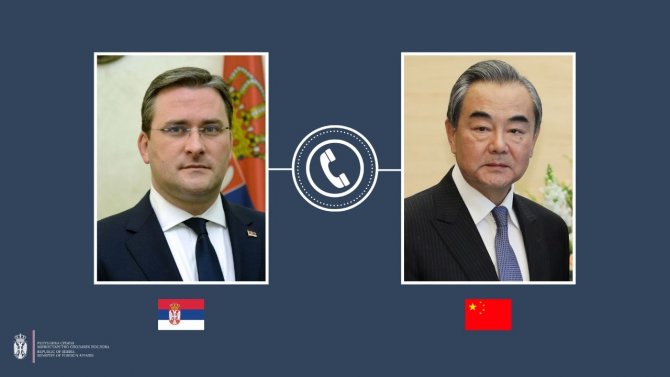 Minister Selakovic said Serbia is proud of the steely friendship and comprehensive strategic partnership it has with China, stressing its readiness to further strengthen co-operation in all areas.
In particular, he noted that our excellent relations contribute to the friendship and co-operation between the two presidents, Aleksandar Vucic and Xi Jinping, stressing that it would be a great honour for us if we hosted President Xi in Serbia, when conditions are in place.
Selakovic thanked China for the clear and firm support China is providing to our country regarding Kosovo and Metohija, both bilaterally and in international organisations. He also said that our country provides unequivocal support for the "one China" policy and the principle of "one country-two systems", as well as the fight of NR China against separatism.
The minister also conveyed that Serbia attaches great importance to the Chinese president's "Belt and Road" initiative and the China-CIEZ cooperation mechanism, noting in particular that we are pleased to mark ten years since the establishment of this mechanism this year. To that end, Selakovic said that our country's active participation in the China-CIEZ mechanism and the "Belt and Road" initiative has made a strong contribution to the arrival of Chinese investments in Serbia.
Noting the intensification of our bilateral economic co-operation, Selakovic spoke specifically about the importance of Chinese investments and joint infrastructure projects, stressing our interest in opening direct air lines between Belgrade and Beijing and Belgrade and Shanghai as soon as possible.
As for commodity trading, Serbia's top diplomat said it exceeded $5 billion the previous year, and that our exports have reached a historic peak of nearly $1 billion, an increase of 152% over the past ten years.
The interlocutors agreed that the signing of a Free Trade Agreement between our two countries will provide a wider space for further development of commodity exchanges and to raise Serbia's role in the region.
China's top diplomat congratulated Serbia's successful presidential and parliamentary elections, president Aleksandar Vucic's victory and the success of the Serbian Progressive Party. He also conveyed congratulations and greetings from President Xi to the Serbian president.
---